The elements of the Black tie dress code
Black tie is a men's and women's dress code for evening events (after 6 p.m.) dating back from the 19th century. It is semi-formal – in the middle between white tie (the most formal) and business dress (less formal).
For this reason, the black-tie ensembles can display more variation in comparison to White tie.
In general its components are:
– a jacket with silk facings on a shawl collar, peaked lapel or notched lapel;
– uncuffed trousers with a single silk or satin braid covering the outer seams;
– a black cummerbund or a low-cut waistcoat;
– a white dress shirt with a turndown or winged standing collar;
– French cuffs and cufflinks;
– a black silk bow tie ;
– black dress silk or fine wool stockings;
– black shoes – patent leather court shoes, highly polished or patent leather Oxfords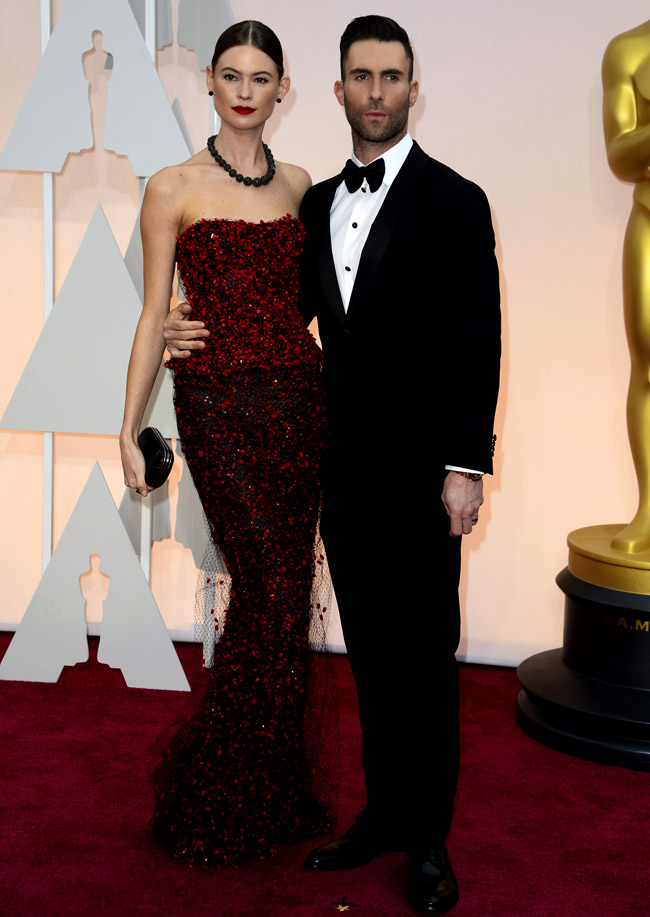 There are many events which require Black tie and even though it gives variations, most of the gentlemen choose to wear the traditional set, which makes them look very alike. You can see this at the most Red carpet events, award-winning ceremonies, conferences, etc.
Photo:
American singer, songwriter, multi-instrumentalist and actor Adam Levine and his wife Behati Prinsloo arrive for the 87th annual Academy Awards ceremony at the Dolby Theatre in Hollywood, California, USA, 22 February 2015;
© Mike Nelson/EPA
Tags:
black tie
,
bow tie
,
cuffs and cufflinks
,
dress code
,
fashion
,
gentlemen
,
men
,
menswear
,
red carpet
,
style
,
suit