Men's fashion world turned completely around
With an interesting sense and love of fashion LeGrand Leseur wanted to push the limits by creating suits and looks that haven't been done before. This led him to become the number 1 voted best dressed man in the world via Vanity Fair's International Best Dress Challenge. After successfully pitching and making a few designs to some of the most prominent people and clients in Philadelphia, LeGrand decided to make his looks more accessible to the masses. All suits are custom bespoke designed, tailored and altered for the client until he creates the image that the client wants and fits him best.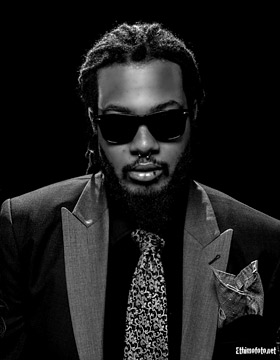 When did you decide to enter the men's tailoring business?
I started working on a t-shirt line in college. It was a way for a broke college student to make some extra pizza money. I studied very heavily in marketing and business during my college years and I realized that marketing my brand wouldn't work because I never wore t-shirts; I always wore suits. I'm not sure why exactly I started but I did and they were really shitty, cheap suits. All one color and were always a little too big for me. I basically decided to do things myself. I could never really find what I was looking for style wise so I decided to work on some ideas and concepts myself.
Where did you study tailoring?
I didn't. I studied music in college and then switched to humanities. I am self-taught in the basics of tailoring and I am still learning but I have tailors under me who handle just about everything sewing wise from my concepts on paper to finished products. I sit down with master tailors and we talk about new ideas that I have.
I read that you create the men's suits models specially for each client? Is that correct?
I like to focus on design ideas that haven't been thought of before by using reflections of the past and premonitions of what I think the future of fashion can and shall be. I invented the oval pocket and the angled cuff, a homage to the Victorian Era if you will. And all of my suits featured angled button holes something I believe all suit designers are going to start taking over pretty soon. It however started with me.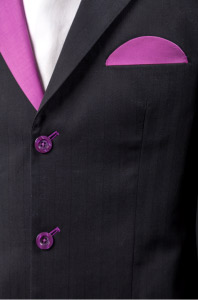 The suit hasn't changed in over 100 years. The pattern has been the same for so long and people in the fashion world I think have become complacent in that fact. I believe I am here to change that. The biggest thing about my brand is I don't make duplicates. If someone has me make them something there won't be a copy unless someone has gone out of their way to do so. This is something other men's designers aren't offering. They make black suits and navy suits and grey suits with no innovation. No new ideas no changes, just new fabrics. If it isn't that they just take some crazy abstract fabric pattern and turn it into a normally designed suit.
How do you qualify your suits – are they bespoke or made-to-measure?
I do both. Bespoke and made-to-measure are different in the fact that Bespoke you start with a pattern on top of a pattern that creates a perfect fit while made-to-measure is usually just measurements which uses a standard suit pattern. Bespoke is from the ground up while most made-to-measure items start with the standard suit pattern. This standard is what everyone uses. Bespoke is more expensive but the problem is most bespoke designers make boring clothing. Really boring stuff. The beauty of my business is I can not only make bespoke but I can also do made-to-measure items bespoke because I have started and created my own patterns so as the angled cuffs.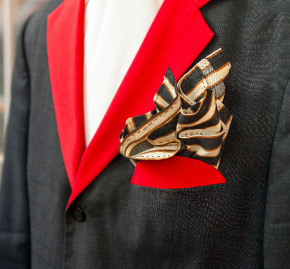 Men's suits are a traditional garments and you have some very original models. Are non-standard suits accepted well by your clients?
My clients come to me just for that. Even at the least a client is getting my top stitched angled cuffs and oval pockets. I do have other pockets designs coming out however. If someone wants something basic I send them elsewhere. When people come to me they know what they are getting themselves into.
What people are your customers?
The bulk of my customers are people who want something stylish and different. People who enjoy the good life but are willing to work for it are my main customers.
What fabrics do you use for your suits?
I work with a few mills around the world that are producing "super" fabrics for my brand which determines quality in the fabric of the suit. High quality and luxury brand will have a higher super number then lower brands such as super 150's verses your generic wool.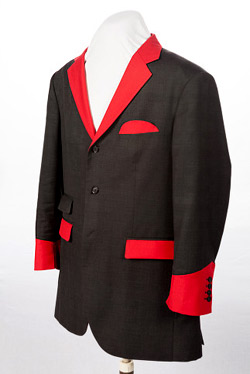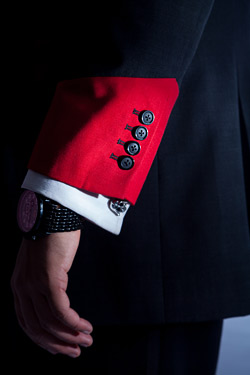 What is your work for you? What do you want to achieve?
Work for me is marketing, drawing concepts and designs up and getting new clients. The only thing is when you love what you do it truly is no longer work.
I want to be known as one of the greatest. Turn the men's fashion world completely around and start a movement that lets designers and other artist express themselves more without fear of resentment.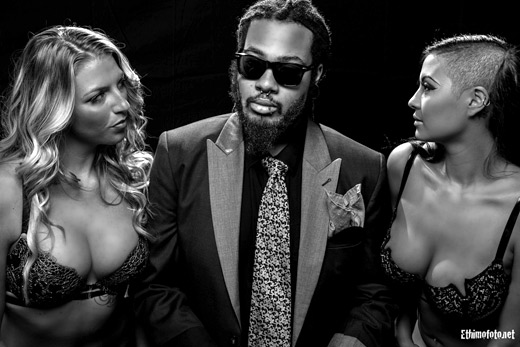 Tell me something about yourself. What do you like to do in your free time?
I have a huge thing for Lana Del Rey. I recently got a tattoo of her upon my leg that isn't finished yet. Still have another session to go after it's done healing. I think her music is completely astonishing. I enjoy going out to fancy events, restaurants and red carpeted occasions. I believe everyone should attend at least one once a month.
Free time I just enjoy relaxing. Whether that is watching "The Great Gatsby" at home or taking a walk/ sitting in a park. I also enjoy drinking tea and playing chess though I rarely have a partner to play with. I like to be comfortable at all times. I also enjoy live music whether it is symphony orchestra or a night out at a club such as Lit Ultrabar in Philly bumping EDM for hours straight.