Habitus – collaboration between tailors
Habitus is the project built through the collaboration of four tailors' skills and ideas. They work together, cutting and sewing bespoke garments, in a workshop placed in the very heart of Rome. In the tailoring house in via xxiv maggio, just a few steps from the Quirinale palace, the habitus' bespoke suits are made according to the traditional principles of true craftmanship, the rules taught by the old mentors. There is no hi tech industrial work machinery; just shears, heavy iron and needle, to create a true masterpiece of complexity, full of high quality finishings and attention to details.
I went to see their workshop in Rome last week and met the whole team. Bernardo La Guardia gave me an interview about the way they work.

Habitus team – Bernardo La Guardia, Lucia Colucci, Eleonora Lauria, Gabriele Corvino
Bernardo grew up in Naples, but his passion for bespoke tailoring comes from England; his work is a synthesis between multiple aestethic influences. He randomly discovered the world of tailoring when he was in high school; at the age of seventeen, he commissioned his first bespoke suit, and after a trip to London , between the great houses of Savile Row, decided to become a tailor. The path he follows is double, as a craftsman and as a student of textile fibres and history of fashion. The passion for fabrics is the fundament of his tailoring ideology, which is conceived as a work of extraction of the garments from the fabric.
Please, tell me more about the way you work.
We only make bespoke suits – suits jackets and trousers, overcoats. We don't have rady-made products. Our jackets are very lightweight, without padding on the shoulder, just a little bit when it is required, its very narrow in volumes, it's rather sleek – small fronts, high shoulder, high gorge. We like to work with rather classical fabrics like british fabrics. Wool, not so fine wools, we don't like super fines, 160s 170s like these, we use rather classical fabrics because they drape much better. And you can build a jacket that is much less structured because the fabric is structured itself.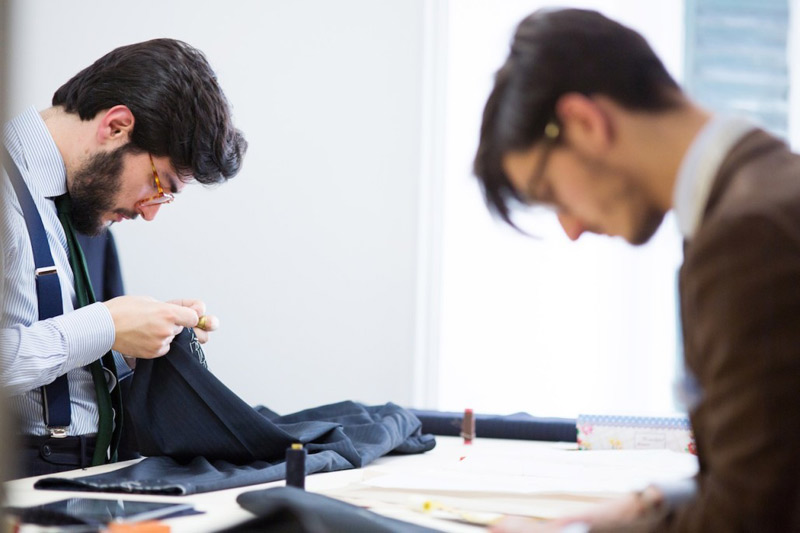 What about the shape of the jackets. I see very large lapels.
Yes, because this is a doble-breasted suit. For the single-breasted suits we have very narrow lapels, less bulky than classical single-breasted jackets like british fashion.
We have a single dart on the side, curved, which allows us to keep the front of the jacket clean, without the straight lines and stitches. We like not too slim but not so baggy trousers. So, narrow bottom but full underleg, high rise, if the client likes we prefer to use braces to hold it in place. The breast pocket is a bit curved.
Do you do something more different than classic style, more bright fabrics or something like that?
Not really. If the client wants something flasher and brighter we can do it but Rome city is very conservative so we usually do gray or blue stuff. Right now we are working on ten blue suits. Sometimes we do something brighter on the inside, on the lining but on the outside we do not do anything strange. We made some experiments like this. It's a linen jacket, Irish linen, and it is very peculiar because it is completely unstructured. It has no canvas, even on the lapel and the undercollar here is made of canvas. So, if you make a white jacket like this you can even wash it. It is very useful if you are wearing white. So, we like to do experiments like this but we do not do something strange about colors and shades. It is more about experimenting about structure and fabrics. What do you think? Do you like this style?
Yes, because it is better for a worm weather. Especially here I see it is very hot even now (the beginning of April).
Yes, it is difficult. We do not work with flannels because it is too hot even in winter.
How do you advertise?
Well, it's mainly via our website, on instagram, facebook.
When clients like our products and they tell their friends, sometimes they bring friends and that's how it works. We are a very small company. We are just the four of us and we make everything inhouse, even the buttonholes, trousers, waistcoats, it is all made by us. So, we don't have a very large production and it is all handmade like a proper bespoke. We don't have many clients, but we try to have the good clients.
What are your clients?
Layers, professionals like architects, engineers, barristers, someone working in finance. Those are the average clients for bespoke, even abroad. We are working with US since November 2016 and we are not starting to work with Paris, but the average client of the bespoke tailoring is rather high. We travel regularly and try to pull as much work as we can. It's not so easy to find clients, so we have to look to foreign markets like Russia, or Ameria, or Asia, China, Japan. There are groups of very passionate people abroad, may be much more than in Italy, truly passionate, from which even we can learn about new shapes, new fabrics.
Do you visit Pitti Uomo?
Yes, always.
I have also been there once.
What do you think?
It is very interesting.
Yes, like a circus… We go there because you can meet everyone. Even someone that you actually don't know but you can pretend. We go there but Pitti Uomo is more for the fashion industry and big production. For a small business like ours it is more about meeting people we actually work with, like fabric agents.
Are there other trade fairs that you visit?
We planned to go to Milano Unica but we were so full of work that we couldn't attend it.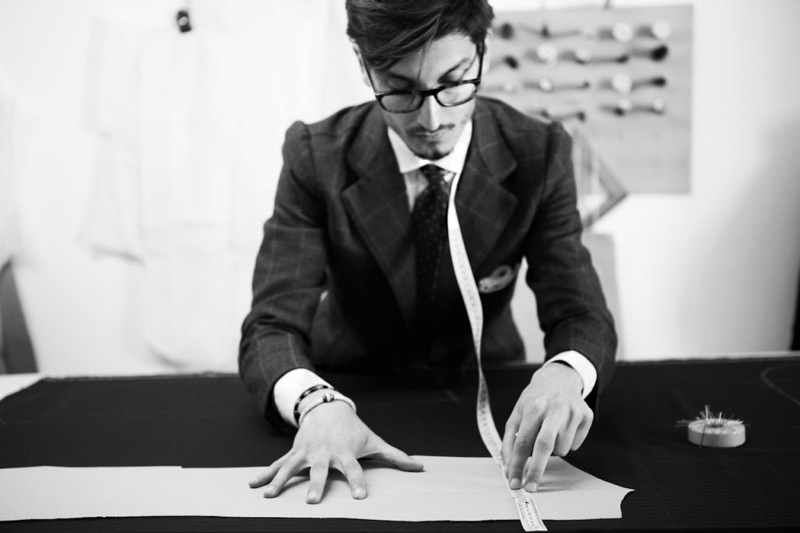 What is the key to the perfect suit design?
The key to the perfect suit design lies in the fabric – wether wool, linen, cotton or silk, we truly believe the fabric itself will guide us in the making of a well-made suit, proper, durable and expressive.