Transformation of U.S Army Veteran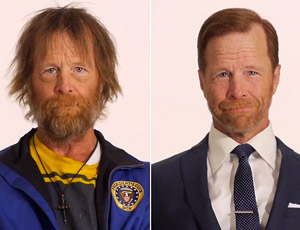 One really well-fitting men's suit made of high quality fabrics can help every man feel more confident and radiate style.
It's elegant, it's beautiful, it's comfortable, it's practical to wear a suit and there is a suit for every occasion.
Inner qualities are more important of course, but to get the chance to show them you need your look. And you can really become transformed and unrecognizable.
Well, take a look at this video, showing the amazing transformation of U.S. Army Veteran Jim Wolf who has struggled with alcoholism, poverty, and homelessness for decades. At the end of the initiative he looks handsome, stylish and exquisite.
You can also participate with a similar video or photographs, showing the men's style.