The formula for success is simple – work very hard
Seth Schafer's father, Christopher, learned the art of measuring & design to create custom clothing while living in London. He learned from some of the best clothiers in the world and today works together with his son.
Seth has been around the business since he was a child. Intrigued by his father's passion for the business, Seth decided to join in 2013 and since then Seth has left his own mark on the business. He has been featured in the Baltimore Business Journal as well helping the team to win RAW Awards Baltimore's Best Fashion Designers 2013.
– Mr. Schafer, would you please tell us more about you, your business and working in team with your father?
– I wasn't always around fashion. My father started designing custom suits 8 years ago in London. When he came back to the states I started picking up little things here and there. I would go to events where we would sell ties and have swatches on our table. That is when I truly realized exactly what he did. For several years I worked in various places before I officially started working with him. I worked in a restaurant as a manager then became the head chef. I would receive a phone call every week from him asking me to work with him. Finally I took the bait. I really enjoy working with my father. He is the best mentor I could ask for.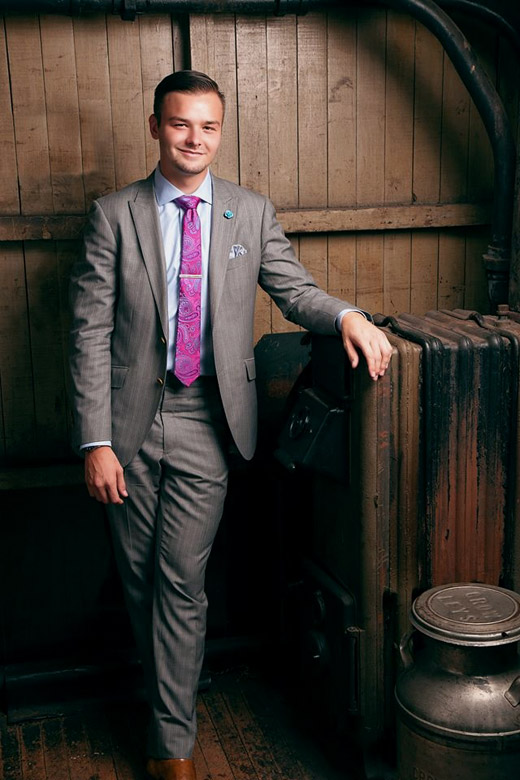 – What is your formula for success?
– The formula to success is simple, work very hard. In our business it isn't as much physical labor as it is mental. Being strategic and gaining new knowledge every day will keep you rising to the top. I believe building relationships is an essential. I have had a lot of great people do wonderful things for me.

– Do you participate in fashion fairs?
– We participate in fashion shows, photo shoots as well as trade shows – for example Baltimore's Fashion night out, Crystal Couture and Baltimore country clubs annual fashion show.
– How long does it take to finish one custom made suit?
– To make a custom suit it takes about 6 weeks. Once the garment is ready we will do fitting with the client and if there is any alterations we will fix them until the client is absolutely over joyed with their new suit.
– How many custom-made suits do you usually create per month/year?
– On average we make about 25 suits a month or 300 per year.
– Is there some interesting story from your practice, that you would like to share with us?
– I do something very different. I have been a skateboarder all my life. I have found that an effective way of gaining new clients is – I skateboard throughout Baltimore in my custom suit. I approach stylish strangers and talk to them about custom clothes.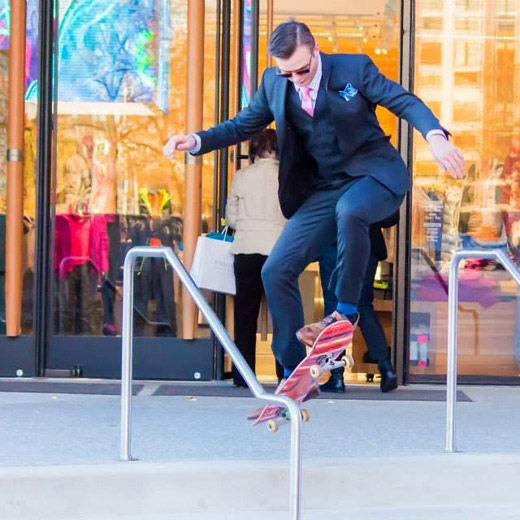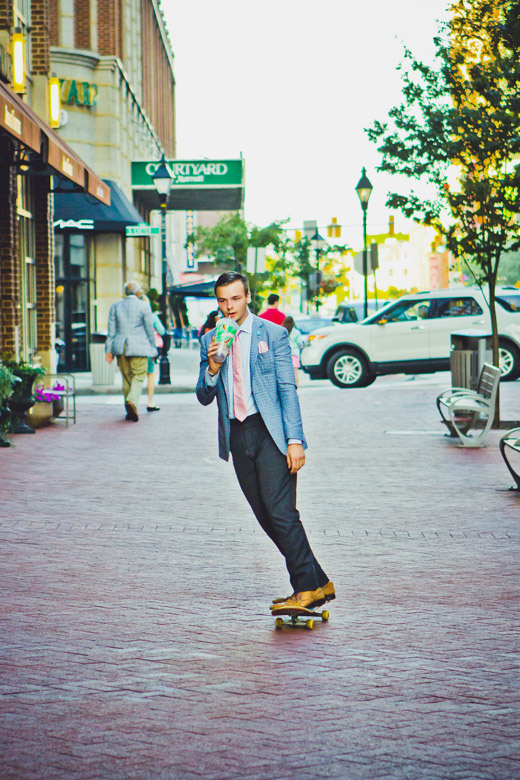 – Are there celebrities, which are your clients?
– We make clothes for Rick Dempsey, he is the 83 World Series MVP of the Orioles.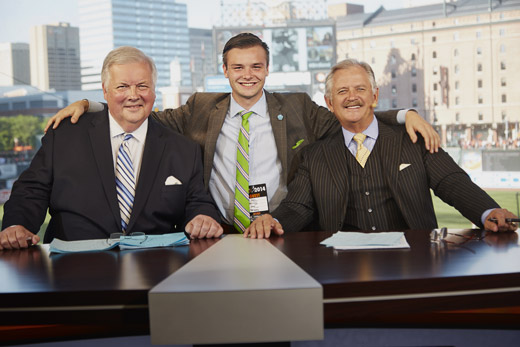 – What do you think is the future of men's fashion?
– There is a couple of things that always change in men's fashion. The width of the lapel, the height of the gorge line and the fit.
– Do you work with other young fashion designers, who want to follow your profession?
– I do work with other fashion designers, however, they are normally designing dresses or evening gown.
– What advice would you give them for starting and developing successful career in the fashion business?
– For anyone interested in entering the world of fashion – I would encourage you to build relationships with others involved in the industry. Being able to collaborate on photo shoots, fashion shows and referring business each other's way is so important. It is just as important to have people who buy your product as it is to having people be aware of it.
Photos:
1. Seth Schafer, photographer: Sean Scheidt
2. Seth Schafer, photographer: Darwin Antwan
3. Seth Schafer, photographer: Tyler Lyons
4. Seth Schafer with Rick Dempsey (right), photographer: Curtis Blank
Tags:
art
,
business
,
classic
,
designer
,
dress code
,
elegance
,
fashion
,
formal clothing
,
gentlemen
,
jacket
,
men
,
men's fashion
,
menswear
,
style
,
suit
,
trend
,
well-dressed man