Give them exactly what the customers are asking for – perfectly fitting hand-made suits
Master Italian tailor Sebastiano Montella and his tailoring studio Montella Custom Tailor, which offers custom hand made suits and clothing for both ladies and gentlemen, as well as expert alterations.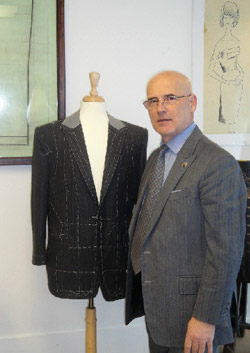 – Dear Mr Montella, would you please tell our readers more about you, your work and business?
– Of course. I am an Italian master tailor who was trained in an apprenticeship system in a beautiful town of Visciano just outside of Naples, Italy. My teacher, D'onofrio Alfonso,was one of the finest tailors and individuals to have mastered the art of tailoring in Italy. He began teaching me at the ripe age of seven, and I have been perfecting this trade for over fifty years now. I am currently 61 years young. I have worked as a master tailor in both Italy and the United States. I currently own a custom tailoring studio in Bellport Village, NY. This studio remains true to the Italian tailoring tradition of making all garments COMPLETELY by hand, and all of the work is performed here on the premises. Nothing is ever sent out to factories as many others tend to do.

– What inspired you to become a tailor?
– When I was growing up, many families living in rural Italian towns would send their children to learn a trade. These trades were started at a very young age and would coincide with our schooling. My family, which had several members trained in the art of custom tailoring, decided to let me follow in their footsteps. Having a man with the stature of D'onofrio Alfonso in the same town also made their decision a lot easier. Once I began this apprenticeship with him and began to see how my sense of style and quality of dress became superior to others, I became completely in love with custom tailoring and all of its aspects. My passion has only grown since then.

– What is your formula for success?
– My formula is very simple: Give them exactly what the customers are asking for, which is a perfectly fitting hand-made suits or garment. If a customer spends thousands on a suits or garment in the hopes of receiving something that is made in a traditional Neapolitan manner and instead receives something that was made by machine in a factory somewhere, you should expect that customer to be rightfully upset. Honesty is crucial in any business and custom tailoring is no exception.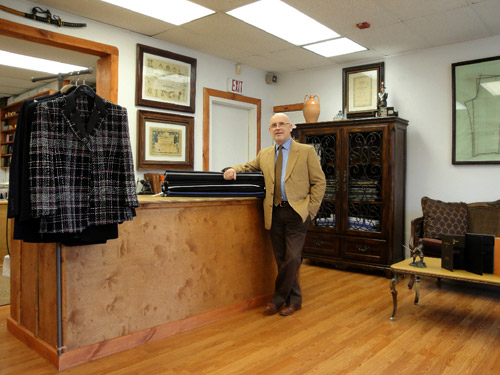 – Do gentlemen take as good care of their looks as ladies?
– I believe so. I always say that two things make the man: A fine tailored suit coupled with a fine personality. Women have always been seen as the more elegant and fashionable gender, and rightfully so. I have many female customers who dress exquisitely and ensure that their partners do so as well. A well dressed couple will turn heads at any event.
– How long does it take to finish one custom made suit?
– Roughly 100 hours, depending on the form of the customer and the amount of details or specifics that an individual is interested in. A woman's gown or dress, for example, can take up to several months due to the unique character of every design.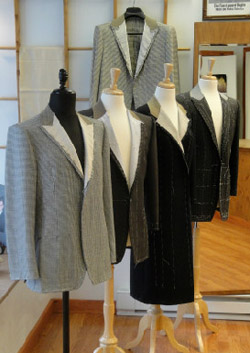 – How do you advertise your services?
– I have never been an advocate of advertising. For me, I will see an add as a decree stating that I am good at what I do and that you should bring your business to me. In reality, you will not know how good I am until you experience my work. For that reason, my advertising as of late has been the testimonials of others who have experienced my work and told others of it.
– Are there celebrities, who are your clients?
– Yes, I have several and without stating any names can tell you that they are all very knowledgeable in what I do and truly understand the product I am providing them. They also bring smiles and entertainment to my shop whenever we have discussions and share an occasional espresso.

– Do you want to share some interesting story from your work?
– For me, the most interesting stories are those of customers who have traveled in pursuit of a quality tailor, and in doing so have become skeptical in finding one. An interesting instance of this happened a few years back when a customer of mine who is a lawyer in NYC came into my studio with a suit that needed to be altered. He informed me that his suit was 'custom made' but needed some adjustments. As we discussed the matter I asked him why the maker of this suit could not fix or make these adjustments. His response was that 'the suit can't be made to look any better than this. My size and shape won't permit it'. Now this particular man was only reciting the words of the man who had sold him this suit, and therefore I could not hold him at fault for his ignorance. What happened next was quite interesting. I told him that yes, the suit can be altered to look like a proper fitting suit, but why should he have to spend money to alter a custom made suit that is suppose to be designed to fit his body perfectly? Instead, I made him an offer. Let me make you a real custom made suit. If for any reason you do not feel completely satisfied with its fit or quality, I will give you the suit free of charge and alter your existing suit for free as well. To make a long story a bit shorter, he has been one of my best customers for years and literally threw out all of his other 'custom made' suits.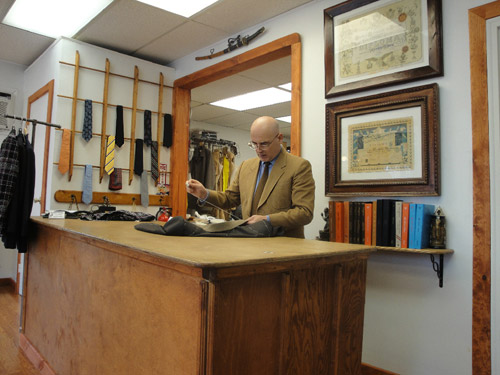 – What do you think is the future of men's fashion?
– Fashion in the context of traditional custom tailoring does not have a very promising future. The traditional methods of a quality hand-made suit are being replaced by factory quality items. It saddens me to see that this art is vanishing, but it is not completely gone. I have made it a point to pass this trade on to my family as well. Whether or not they chose to utilize it as a business is irrelevant. I just want them to have this skill. However, if I were to discuss fashion as a whole I'd have to say that I'm a bit of a purist. I see fewer and fewer Leonardo Da Vinci's and more and more Picassos. Either way, fashion for men is growing which should make us all a bit happier.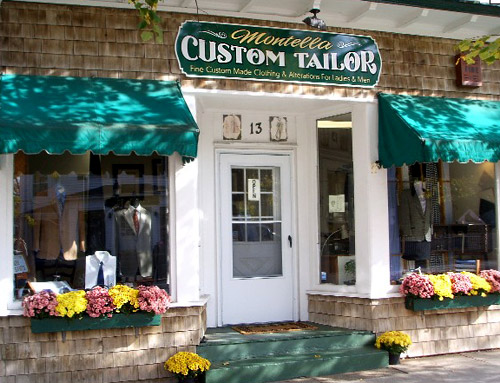 – Do you work with young fashion designers, who want to follow your profession?
– I have had offers from several but they had the wrong ideology. They wanted to be designers from day one. I still believe in the apprenticeship system which has been successful for many years. Fashion design schooling is perfectly acceptable. I myself have gone to fashion design school in Italy as soon as I finished my apprenticeship. I strongly favor the combination of the two but am against having one without the other. Occasionally I have found myself watching a fashion reality show on TV that I will not mention. Watching these contestants who are adamant about being designers not know how to perform a basic stitch drives me insane!

– What advice would you give them for starting and developing successful career in the fashion business?
– I think I have just answered this question as well. Learn how a garment is constructed correctly and then you can design until your heart is content. A designer who has someone else construct his or her garment is like having to people working on one task who both speak different languages. Other than that bit of advice, one also needs a lot of luck to succeed in this business. Without luck, you better make sure that you are the best at what you do.