"A well dressed man makes the difference"
The brand Marie Raz was born in Berlin, Germany. It is a men's label, which has some unisex pieces to offer. The brand stands for a different design with experimental cuts. Very important is choosing the best fabrics and love for details.
The creative director of the brand, Mariana Razuk, studied design and pattern making at ESMOD University of Arts for Fashion in Berlin. During this period she did an interchange program with ESMOD Tokyo, Japan, which often
influenced her style.
Autumn / Winter 2014 Collection – SKIN CUTS
People gain more individualism after changes of the skin, like scars or tattoos. These "modifications" tell stories and define who you are. This collection takes exactly this essence and makes cuts, taking things from the original locations, changing the clothes – our second skin – and making them unique. Having drafts of the sketches in the hands, we began the play: Cutting the collar of one white look to unite it with a different one in grey, taking off the sleeves of one blazer and placing shirt sleeves instead, making holes at elbows and drawing black contours. But we still wanted more – let's do tattoos. For this, we teamed up with the artist Mitch Manuel do develop unique stamping patterns. He is from New Zealand, Polynesian origin, and uses traditional Maori designs, which we deconstructed and constructed again in a different way. This produced a completely new illustration. A perfect combination to this collection.
The color palette is based on neutral tones like black, grey, white and additionally touches of vibrant red. Completing the idea of the second skin, we used natural materials like Wool and Cotton and as contrast Neoprene.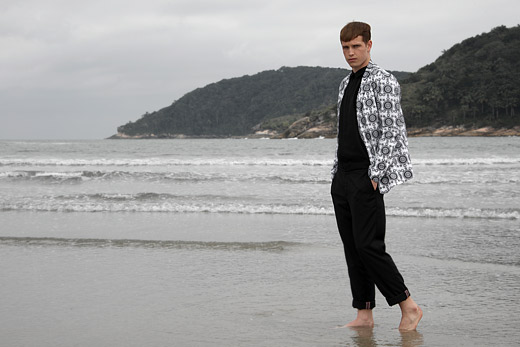 Mariana just joined the Men's Style project and I made a short interview with her.
When did you first start designing?
I really designed something when I started to study fashion (2010). Before this, I liked to change clothes, play with fabrics but it was not what I today call a designed piece.
Who or what inspired you to become a designer?
I was working for a freight forwarding company and I felt completely out of place. I bought a sewing machine and started having a lot of fun with it. This is how I realized that I should do something in the creative area, and fashion design felt like the obvious choice to me.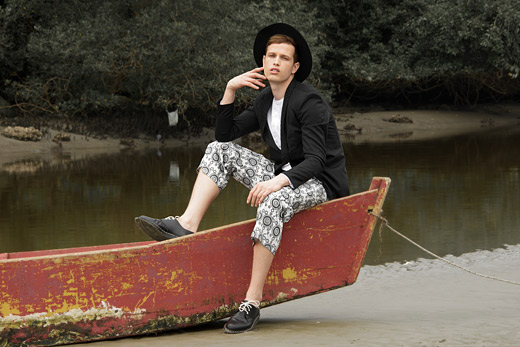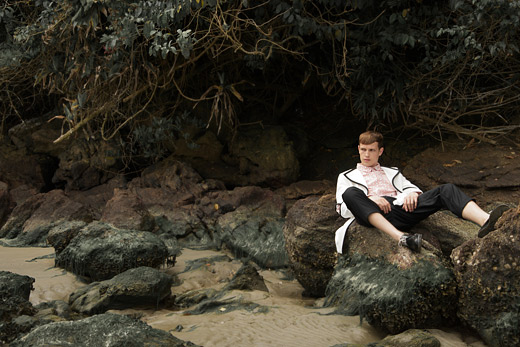 Where do you find inspiration for your creations?
Usually it starts with a mood. It is always very personal to me and it has to do with that part of my life while I am creating the collection.
From this feeling, I will take the colors, the silhouette and it will all develop according to it. This mood can come from a trip I take that impresses me or just a simple state of mind.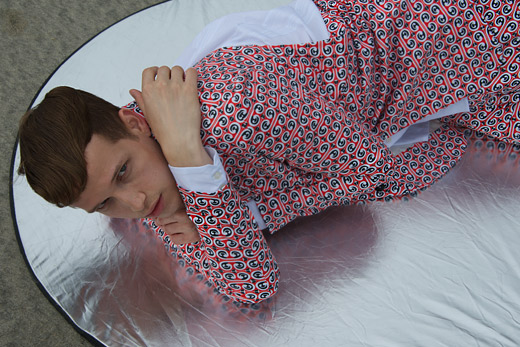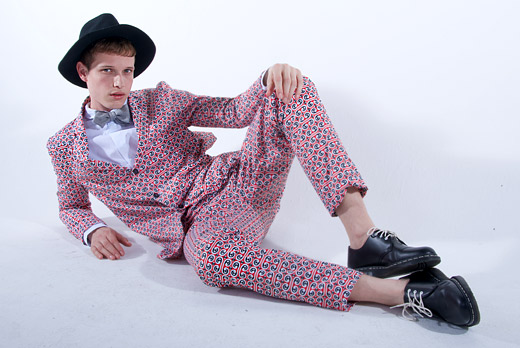 Who are your favorite designers and why?
I am a big fan of the Japanese designers, and one of my favorite is Yohji Yamamoto. They take the lines of Japanese traditional costume and transform it in quotidian clothes, giving it something very special and unique. Besides of this, they are perfectionist with cuts and choice of fabric, which I think is essential for a designer who wants to have a premium product.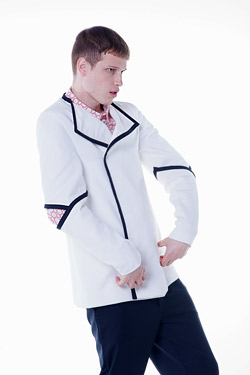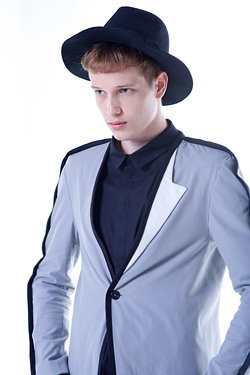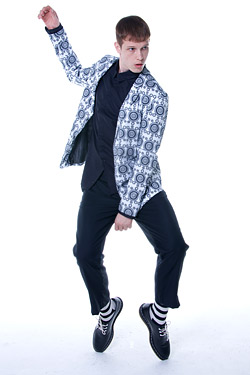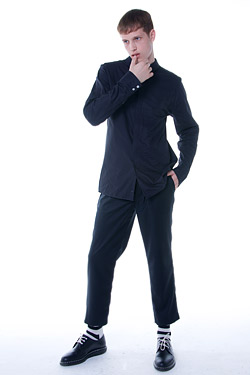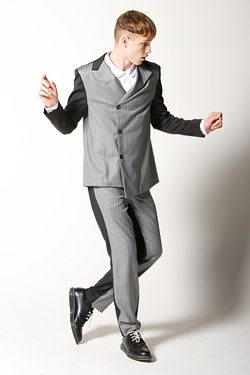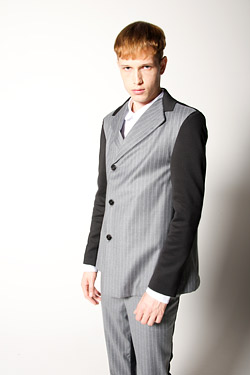 Men do not always pay attention to the way they dress. Give some advice to men – how should they dress to be stylish?
I am a woman who designs for men, so what I am telling is that I look from the other side and I know that a well dressed man makes the difference. It causes automatically a good impression and tells a lot about you. A man in a well cut suit, that fits him perfectly, shows that he takes care of himself and give signs to everyone as a powerful person. This is good in your job, as people unconsciously get these signs and respect you in this way and also makes you more appealing when you are trying to find a partner.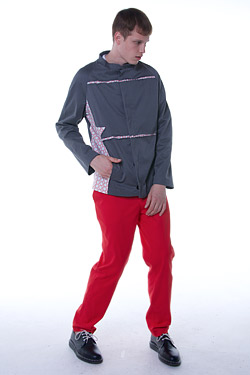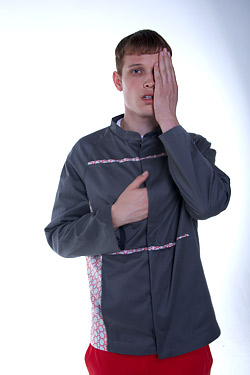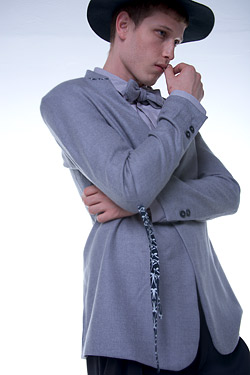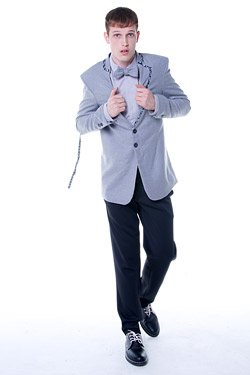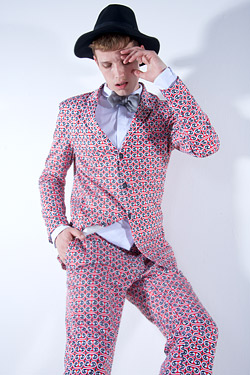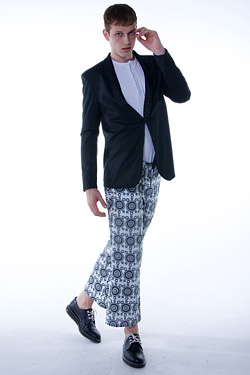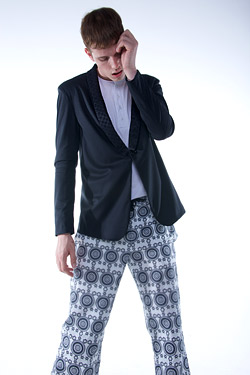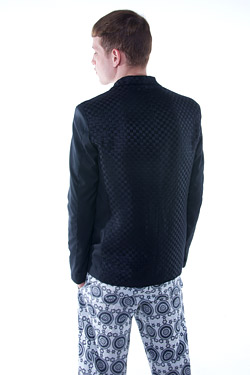 What do you think makes one fashion designer successful?
The authenticity of your work. When you do it with conviction and stay true to yourself, people will see it. And of course, never give up, fashion is a hard business!
What are your plans for the future?
I just moved from Brazil to Germany, where the label actually started. The atelier is now in Munich and the bigger focus now will be Europe.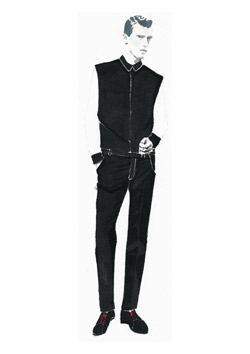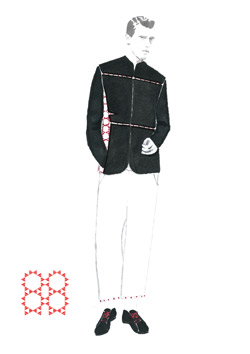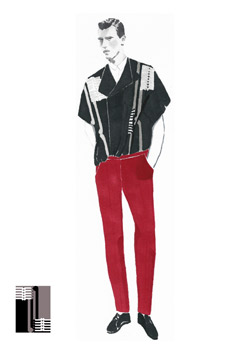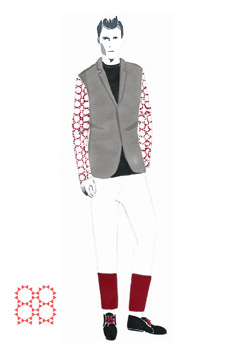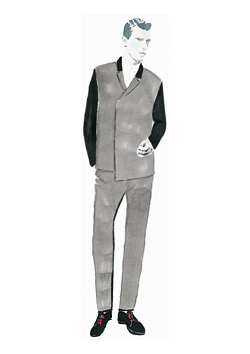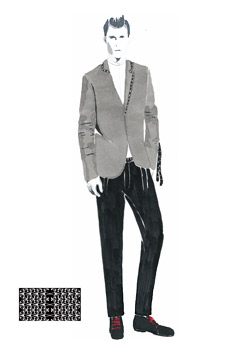 Tags:
art
,
classic
,
elegance
,
fashion
,
formal clothing
,
gentlemen
,
jacket
,
men's fashion
,
menswear
,
trend
,
well-dressed man