Slim Fit Men's Suit
Do you prefer Slim-fitting or Loose-fitting? How do you like yourself more and which style suits you better according to you?
If you want to learn more about the Slim Fit Men's suit, before you decide, you are on the right place.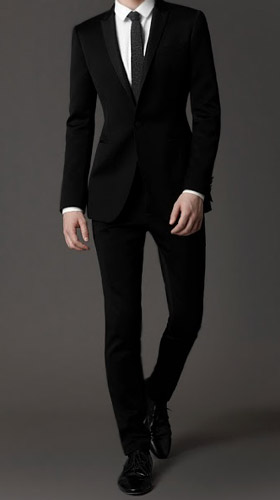 The beginning was put in 1660s when tight men's breeches became more popular than the loose ones. They were popularised by Frenchmen at the court of Louis XIII as part of the three piece suit and during the Restoration era were introduced to England and the rest of Europe.
Today Slim-fit pants (also named drainpipes, stovepipes, tight pants, cigarette pants, pencil pants, skinny pants, "gas pipes", skinnies) have a snug fit through the legs and end in a small leg opening.
During the decades they had their ups and downs and in 2008 when men's skinny jeans were introduced, they spread to men's fashion world. In 2010 they became popular and reached their peak around 2011 to 2014. In Europe, skinny jeans for boys and men have a loose waist to appear "baggy" at the top but skinny on the legs.
But it's not only the skinny jeans. Slim fit clothing refers to any garment that fits the wearer close to the body. The garments in this style don't have extra fabric hanging or draping anywhere.
A slim fit is a very close-cut fit. It's designed to follow the body shape and flatter the figure without restricting the movements. Slim Fit has clean silhouette and more waist suppression in the jacket. Also some stretchy materials can be added to make the garments fit better – for example spandex (synthetic stretchy fabric).
Men with lean body types appriciate the more tailored look that slim fit garments give. For them regular fit dress shirts usually have extra fabric billowing in the back and regular suit pants are too baggy. Slim fit suits allow them to accomplish a professional-looking fit.
Tags:
body shape
,
dress code
,
elegance
,
fashion
,
gentlemen
,
made-to-measure
,
men
,
menswear
,
perfect fit
,
skinny
,
slim fit
,
tailor
,
tips
,
trend
,
well-dressed man