The cufflinks – history and tips
Cufflinks are used to secure button shirt cuffs and may also be an item of jewellery for men. Cufflinks can be manufactured from a variety of different materials, such as glass, stone, leather, metal, precious metal or combinations of these. Securing of the cufflinks is usually achieved via toggles or reverses based on the design of the front section, which can be folded into position. In addition, there are also variants with chains or a rigid, bent rear section. The front sections of the cufflinks can be decorated with gemstones, inlays, inset material or enamel and designed in two or three-dimensional form.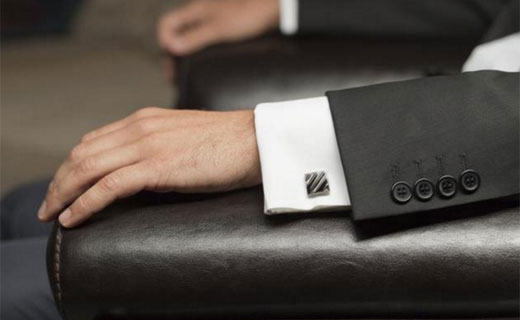 Men have always had trouble with undershirts. In the Middle Ages, visible parts of the undershirt were decorated with frills, lace, and ribbon when they inconveniently popped out of a more formal tunic. These undershirts also had a tendency to be too large around the cuffs so that men could slip their hands through them; making them a poofy bit of "in the way" at every turn. The answer? Clip them together with cufflinks! Appearing as early as the 1600s, they didn't become a fashion staple until the 18th century.
Things were looking good for the cufflink throughout the 20's and all the way up to the 70s, when they experienced a sudden, rapid decline. The Woodstock generation just wasn't having the formality of a starched cuff; puffy sleeves and built-in buttonholes only. However, the absence was short lived. Businesswear in the 80s brought back the fashion along with a host of other "dressy" trends. Some say this was due in part to the popularity of "Brideshead Revisited" TV mini series in 1981, which is set in the cufflink-crazed 40s and reintroduced ideals of handsome formal wear.
The main thing to remember in choosing your cufflinks – beyond their functionality (which should be based on the kind of cuff you'll be wearing them with) – is to keep in mind the fact that they should work in tandem with your other accessories. If painted or enameled in some way, be sure their color matches your tie, etc. And if you're choosing cufflinks made from a precious metal, be aware of how they match any other jewelry you'll be wearing.
If you want to make sure your cufflinks go with the rest of your outfit, you can follow this rule:
The color of your links should match at least one of the following:
– Any of the colors of your shirt
– Any of the colors of your tie or bow tie
– Any of the colors of your pants
– Any of the colors of your jacket
– The color of your belt or belt buckle (or any of the colors of your belt should it have more than one color)
– Any of the colors of your pocket square
– Any of the colors of your shoes
– Any of the colors of anything else you might wear
As an additional tip, we want to recommend you to stay away from any kind of fake cufflinks. It is 10 times more preferable to wear cufflinks that are not so expensive but authentic in themselves than to wear rip-offs. You are a thousand times better off with simple yet real cufflinks than with fake rubies at your wrist.
In the end, we can say that choosing the right cufflinks for you, which are the ones that reflect your personality best can make you feel like a king and that the historic circle of the cufflinks will close.