Dormeuil new fabric collection at Milano Unica
Dormeuil presented its new fabrics collection at Milano Unica (from 11 to 13 July at the Fiera Milano – Rho).
The enigmatic name of Dormeuil's new cloth, 15 Point 7 is no mystery to the connoisseur. It refers to the luxury Super 160's suiting produced solely with finest 15.7 wool fibre gathered from sheep raised in one of the beautiful scenic landscapes of New Zealand. Dingleburn Farm, where some of this unique 15.7 wool originates, lies in this idyllic setting, and it is from there that Dominic Dormeuil has made a personal selection for the range. The fine fibre is used to create a luxuriously soft fabric with excellent performance, ideal for suits which can be worn in all seasons. Colour additions to the designs include an impressive range of blues, very fashionable in all areas for the new season. Checks and original tone on tone designs complete the new look.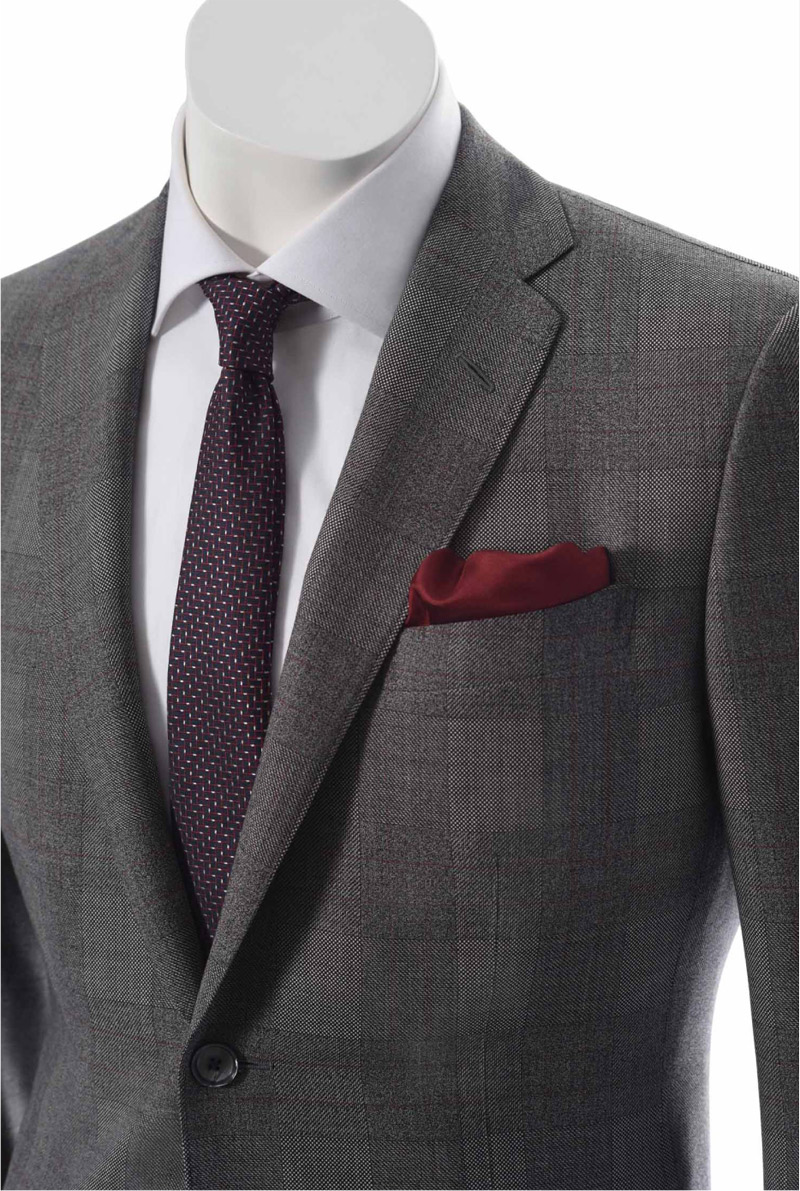 The House of Dormeuil introduces Exel Blue, a brand-new, up to the minute range of contemporary additions to the Exel range with many more designs to choose from. The Exel range is already recognised as a perfect example of technical prowess joining with the creation of elegance. Master tailors appreciate its comfort and luxury as an ideal travel fabric, which exploits the natural elasticity of luxury wool fibre without the need for synthetic additions. Exel Blue is equally versatile, and can be worn all year round, in weights from 240/260 grs (7.5/8.5 oz). Exel, a super 120's Australian Merino wool, uses the natural stretch factor of pure wool fibre to create an easy to wear elegant fabric. Exel Blue adds to the range various contemporary weaves like Prunelle and Twill. The fabrics are especially valuable for the stylish international traveller, who appreciates the comfort of a stretch factor which will retain its shape and elegance. Dormeuil's expertise is summed up by the Exel Blue range: technical mastery and a strong eye for contemporary stylish design.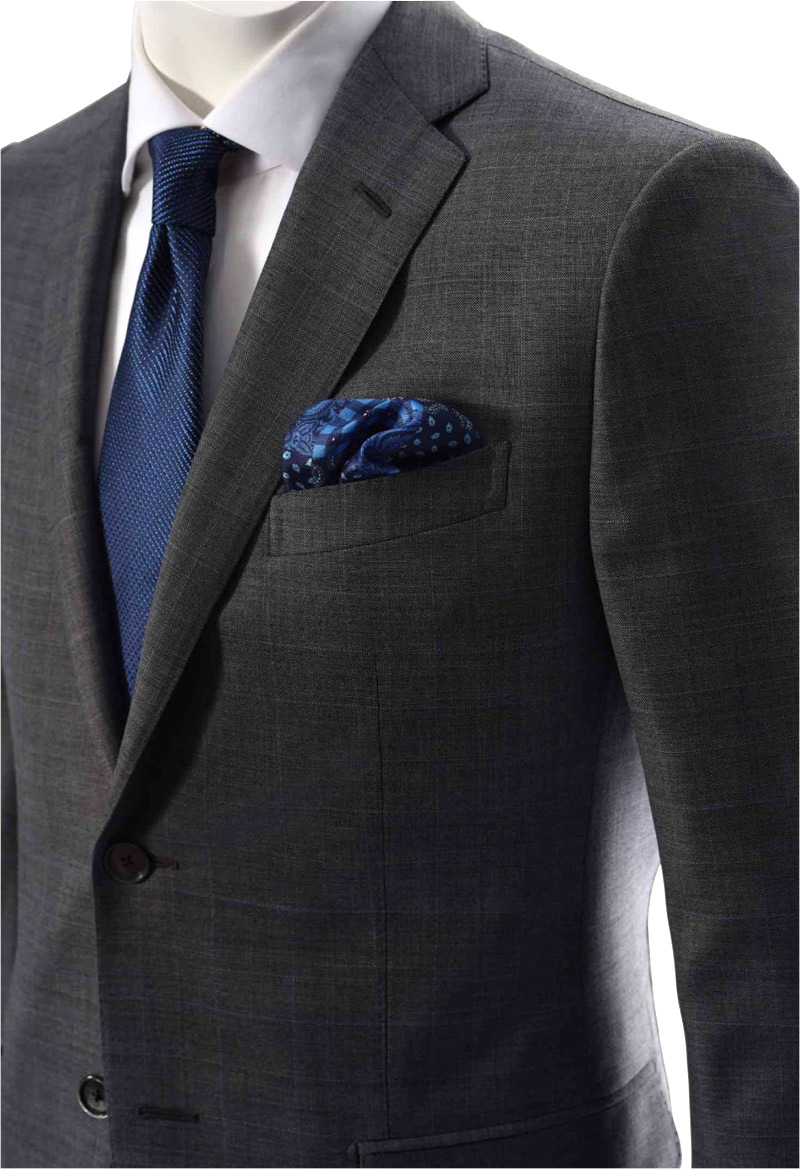 A new cloth in Dormeuil's great English classics range, Royal 11, excellent quality fabric woven from pure wool is ideal for winter suits at 350 grs/11.5 oz. A sure new best seller! Resilient and easy to work, with an impeccable hang, it is exclusively made in England with the Dormeuil design signature which runs throughout the English collection.
Krono, pure wool suiting created by Dormeuil for cutting-edge effectiveness and elegant style is a new classic, made exclusively in England in a modern idiom. Compact yarn gives Krono its ultra-modern appearance carefully formulated for today's demands. Designs include dark to mid-grey, blue and navy, with on-trend plains and subtle stripes.
Dormeuil's Cashasilk range is created by combining the finest Mongolian cashmere with sumptuous silk, for the ultimate in luxury jacketing. The plain and fancy fabrics are designed in an excellent range of colours; hopsack weaves in tone on tone autumnal shades, and twill with unusual and original decoration in a palette ideal for winter. Plains come in vibrant colours, many with an iridescent quality, as well as in more traditional shades, resulting in a complete and attractively modern offer for the discerning customer.
This collection of fashionable fabrics is the embodiment of the Dormeuil philosophy which informs the marque's creations overall. The stylish patterns are the result of Dormeuil's constant search for new ideas which reflect the spirit of the times.
They are at the cutting edge of fashion and also take advantage of the latest technology for optimum performance; the reduction of creasing, and constructions which respond to different climates or weather systems.
Dormeuil's inventiveness and expertise with luxury fibres such produces fascinating constructions which can range from elegant plains to textured effects. The blend of quality fibres and the development of interesting finishes makes such fabrics much in demand by top designers and prestigious tailors, who can offer their international customers luxury jackets & suits that range from the ultra-elegant to the relaxed and informal, with exceptional qualities of fashion and technology.
Dormeuil's emphasis on developing innovative luxury fabrics with a fashionable edge sums up the approach at the very heart of D philosophy.
Cashmere Supreme is a stellar collection from Dormeuil. It emphasises both the exceptional qualities of cashmere and Dormeuil's expertise in specialist techniques and colour mastery. The new bunch combines the finest cashmere for jacketings and coatings: Cashmere Air, Cashmere Air Double, Cashmere Zibeline and the very new Finest Worsted Cashmere Air. Overdyes and double-dyes contribute to a stunning palette. The luxurious and coloured collection of 66 pure cashmere references from 200 to 470 grs makes this the most extensive and finest selection of pure cashmere fabrics in the world. Most importantly, Dominic Dormeuil himself selected some of the finest white cashmere fibres in Mongolia to manufacture these fine fabrics.